The full course
The 9-lesson course, LEARN TO CHOOSE WINDOW COVERINGS. Learn the process of choosing window coverings which you will KNOW are right. And so will your client. YOU DON'T NEED TO PURCHASE ANYTHING ELSE, IT'S ALL INCLUDED IN THE COURSE... except the forms bundle and the '25 Design Mis-guidelines'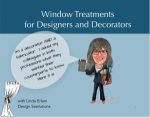 Window Treatments for Designers and Decorators
THE guide to window coverings, how to measure, all about hardware, forms to use, fabric, fabrication. All the things you didn't learn in design school. OR in Fabrication school.
Every-Day Design Dilemmas
All about the conundrums decorators and home DIY decorators face and how to solve them. Easily, without a lot of money, and with the confidence that you are making the right choice. Choosing paint colour, the size of a coffee table, where to put the furniture, how to buy foam..